HOME
Contact
Links
Sources
Logbook

AIRCREW
Troup
Naylor
Herrick
Hewson

TACTICS
Training
Blenheim
Weapons
Formations
Tasks

MISSIONS
Scharnhorst
St Nazaire
Brest
Schiff 24
UJ 126
Condorcet

Plt Off C E Greville-Heygate DFC

The Fatal Mission
On 26 June 1941 two Blenheim Mk IV aircraft of No 53 Sqn RAF Coastal Command were tasked to search for and attack three German naval ships which had been sighted off the south-west coast of Brittany. After their take-off from RAF St Eval at 11.08 AM, nothing further was heard from either aircraft. Both of them failed to return to base.
The crew of aircraft PZ-Y (V6122) was Plt Off Charles Greville-Heygate DFC (pilot), Plt Off Geoffrey Troup (observer), and Sgt Charles Naylor (wireless operator/air gunner). All three were posted as 'missing', and for many years the details of their fate remained a mystery to their family and colleagues. A month after their disappearance a report was received from the International Red Cross that the pilot of the second aircraft, Dennis Herrick, (flying PZ-O, V6087) had been taken prisoner, albeit seriously wounded, but there was no further news of his two crewmembers Sgt G Gahagan and Sgt G Wells or of any of Charles' crew.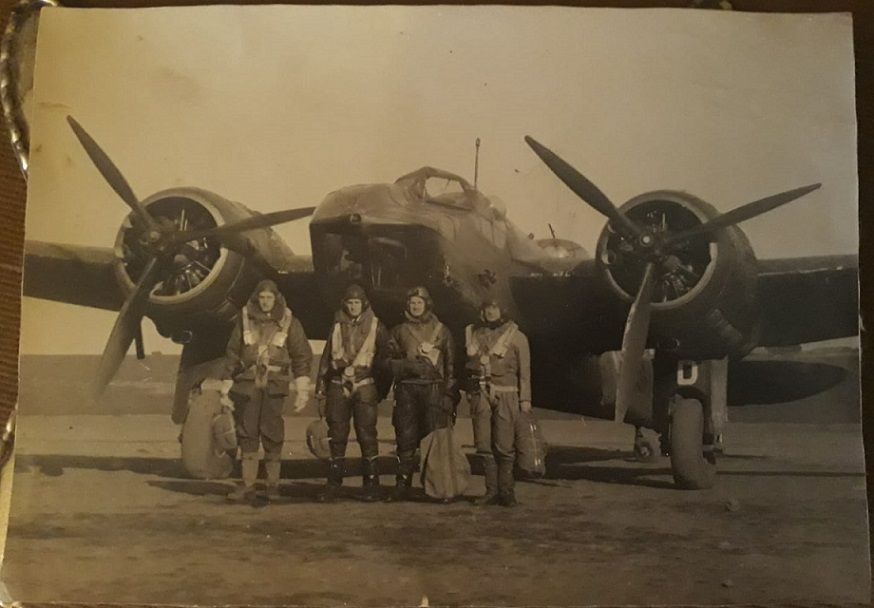 Charles Greville-Heygate and his crew, with Coastal Command Liaison Officer Wg Cdr Lionel 'Sos' Cohen.

53 Sqn Blenheim IV, V5378, RAF St Eval, prior to bombing strike on Brest 23/24 April 1941.
Left to Right: Charles Naylor, Geoffrey Troup, Charles Greville-Heygate, Sos Cohen.

(Photo Naylor family collectionę)
60 Years Later - The End of an 'Enigma'
Almost exactly 60 years later, previously Top Secret documents were discovered in the Public Record Office at Kew: these showed that the aircraft had been shot down by anti-aircraft fire during their attack on the three anti-submarine vessels numbered UJ 126, UJ D and UJ E. These ships were part of the 3rd Sicherungsdivision's 12th U-Jagdflottille, a coastal defence unit of the German Navy. Although details of the aircrafts' loss must have been known to British Intelligence services, this information had been obtained by the decoding of intercepted 'Enigma' radio messages from the German ships. Consequently, the details could not be released for fear of compromising this new and crucial ability to read the German codes.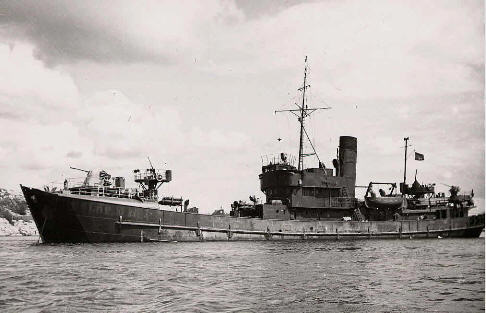 Submarine Hunter UJ126 showing 8.8cm SK C/35 and 20mm/33mm C/30 anti-aircraft guns fore and aft
The Website
The aim of this website is to reveal the story of a RAF Coastal Command Blenheim crew and their flying missions from RAF St Eval. In addition, I hope it can provide some links, suggestions, and sources for others who are carrying out research into the history of one of their relatives. It is a small tribute to just a few of the very many.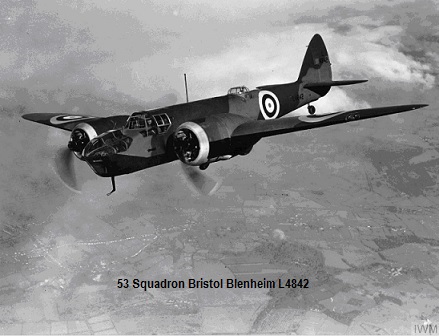 Research is still underway: please help me by sending any additional information, corrections, or observations to gbh1f@aol.com

TOP